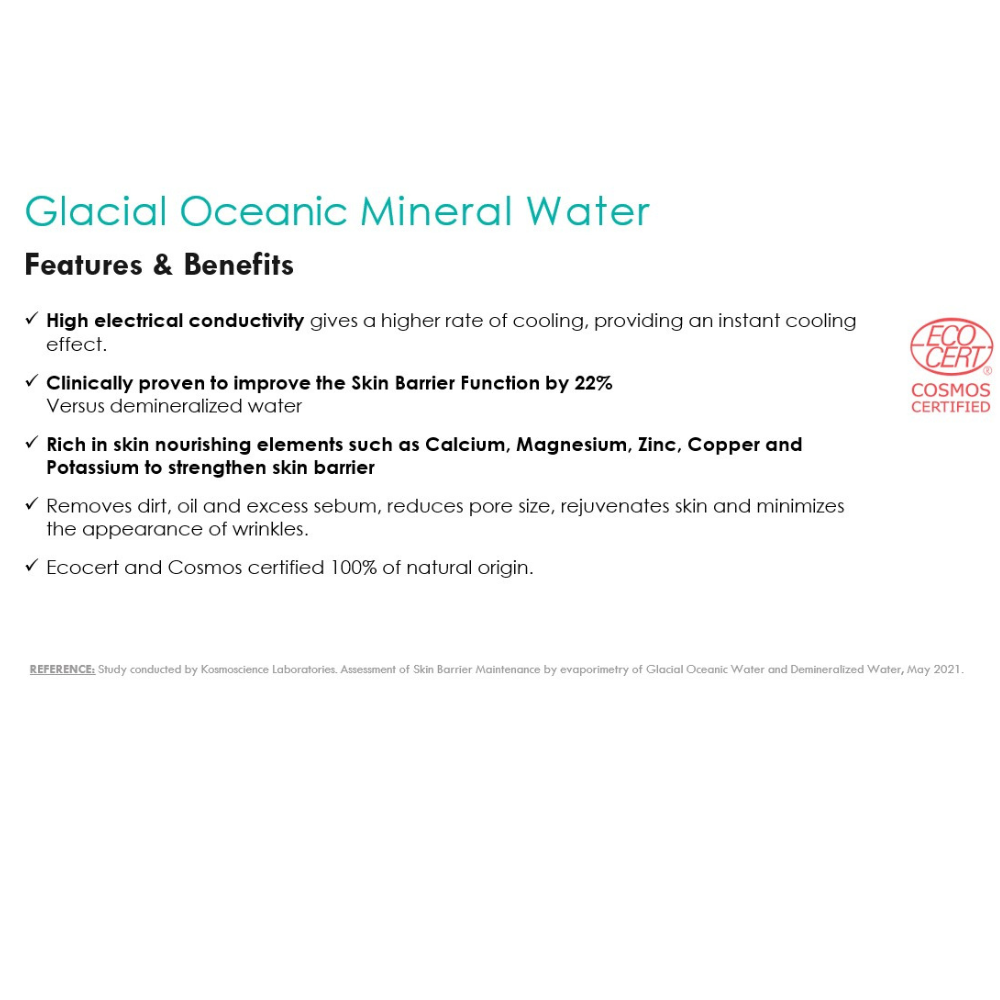 Our efficacy
100% found skin hydrated and smooth after using the Glacial Mineral Toner
97% Reduction of puffiness with continued use of the Hydrating Glacial Moisturizing Eye cream
90% felt skin looked clear and reduced breakouts after using the Hydrating Glacial Moisturizing Emulsion
89% found wrinkles and fine lines reduced ​after using the Hydrating Glacial Moisturizing Cream
99% felt their skin was soothed and hydrated after using the Hydrating Glacial Clay Cleanser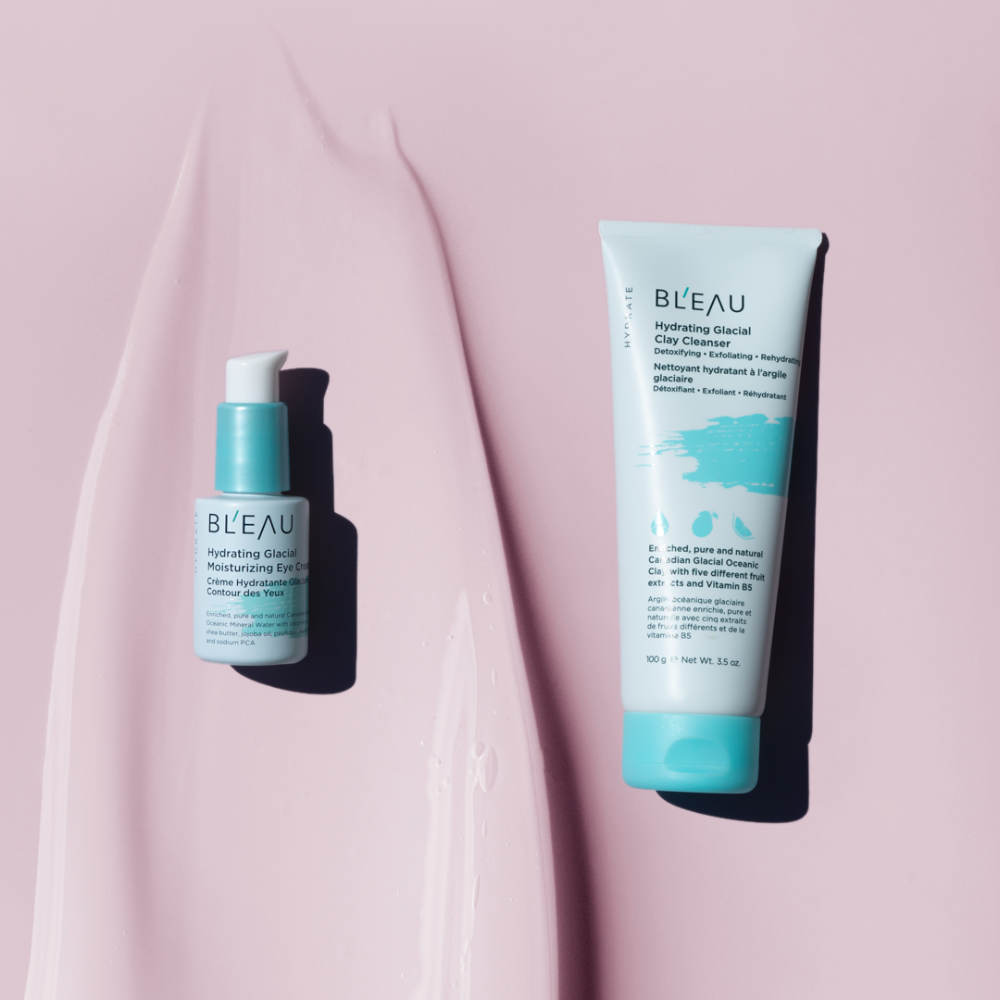 Our ingredients
Glacial Oceanic Mineral Water (Sea Silt Extract/Extrait de limon marin):​
​Extracted from Glacial Oceanic Clay​through a proprietary process. High electrical conductivity to give a higher rate of cooling effect.
Clinically proven to improve the Skin Barrier Function by 22% Versus demineralized water. Rich in skin nourishing elements such as Calcium, Magnesium, Zinc, Copper and Potassium.​
MATRIXYL®3000:
In vivo tests shown the ageing process is slowed down by 1.8 years in just one month after using MATRIXYL®3000.
Boreal Forest Borealine® Expert​:
Contains a very high polyphenol content helps to reduce oxidative stress and inflammatory response.​
Haloxyl™:
activates elimination of blood originated pigments responsible for dark circle colour.​ It has anti-inflammatory effect to soothe irriated skin.
Real results
@sydneylotuaco

On slower days I like to take my time with my skincare routine with one of my favorite product lines Bl'eau! They're made with glacial oceanic clay and glacial mineral water which is super hydrating!

@wanderwithmacy

Waking up to my newest skin routine with@bleaubeauty! Toner, moisturizer, serum, repeat! The clay mask has just become so essential for detoxifying my skin after a long day; I feel so fresh & clean afterward.

@belowtheblonde

It was so fun putting together this little reel for@bleaubeauty after learning more about their mission and products. I've been trying my best to pamper myself every week with this little evening skincare routine!
Testimonials

Loving it!

I'm loving the new cleanser! Doesn't dry out my skin like other cleansers i have used, and my face feels clean. Pores look a bit smaller too!

S.R. Verified buyer
The Perfect Cleanser!

I absolutely love this cleanser! It is very gentle and lightweight! My skin is always so hydrated thanks to Bl'eau!

Taryn Verified buyer
Excellent

The cleanser leaves my skin feeling clean and soft! It is an excellent addition to my skincare routine. I have very sensitive skin and the Bl'eau products are a great fit for my skin!

A. Michalick Verified buyer
Great product!

My eyes and skin around them are so dry and this feels amazing. I highly recommend!

Julien Simon Verified buyer
Learn more about Glacial Oceanic Clay skincare
As seen in