Our efficacy
96% of users said the clay mask helpsto Reduce sebum and naturallyremove dead skin cells.
86% of users believed that their skinweretightenedand the pores wereminimized.
98% of users reported that their skin was brighter and more vibrant after using the Glacial Oceanic Clay masks for 2 weeks​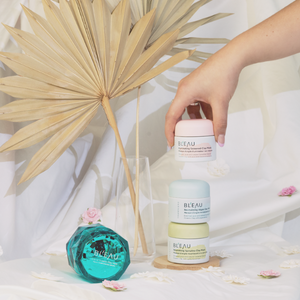 Our ingredients
Canadian Glacial Oceanic Clay (Sea silt):​
Sourced from ancient glaciers off the coast of British Columbia, washed by ocean in the past 2m years, boasting more than 60 minerals, micronutrients and rare elements, rehydrates for smooth and supple skin, detoxifies for a brighter complexion.​
Spirulina:
Rich in nutrients, vitamins and both fatty and amino acids to help decrease inflammation and reveal youthful skin.
European Brown Algae​:
High in Polyphenols, Mineral salts, vitamins and Amino acids lock in long-lasting hydration for more supple, nourished skin.​
Super fruit South American Acai Berry​:
High concentration of antioxidants such as anthocyanins and Vitamin C, Açaí Extract is proven to reduce the signs of aging and anti-pollution action.
French laminaria digitata​:
Rich in vitamins and mineral salts that maintain healthy skin. It helps activate collagen and diminish the appearance of dark spots​.
Testimonials


Amazing!

Incredible customer service aside, this is the best mask I've ever used and trust me, I've used them all! It both cleans out pores and also hydrates and smooths at the same time, you need this!

Sarah Henson Verified buyer
Great clay mask ever!

I love this clay mask very much! It makes my skin feels so soft and smooth! Would definitely recommend for personal use or gifting.

 Lola Verified buyer
Learn more about Glacial Oceanic Clay skincare
As seen in